Are you looking for middle grade books full of fun, adventure and curiosity, for children aged around 8/9 to 12? You're in the right place! Although I still read middle grade books for my own enjoyment, so don't take those suggested ages too seriously…
Here are some of the best middle grade books that I've read in the last year. There's everything from haunted houses to young eco heroes, from tricky friendships and gaming adventures to stories of real-life rescues.
I hope you and the kids in your life love these middle grade books as much as I do. And if you want to discover more interesting, inclusive children's books, handpicked each month by a children's author (that's me!), you can subscribe to my What Book Now? newsletter here.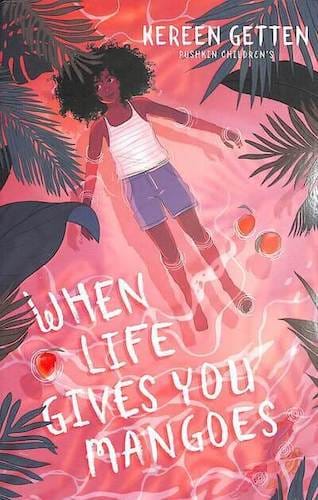 What happened to Clara last summer? She wishes she could remember. The storm, the sea… but then what? She can't bear to touch the water now, let alone go surfing, and it feels like she just can't get anything right. Her parents are worried, her best friend seems annoyed by everything she does, and she's getting a reputation as the problem child of her close-knit hilltop village.
This is a fantastic read, one that I recommend for older kids and adults too. The writing is masterful, giving such a strong sense of place that it felt like I was wandering around inside it wearing a virtual-reality headset. It's got adventure and mystery and an amazing cast of believable, memorable characters. It's surprising and moving, too, exploring how love can be painful and messy and take a long time to repair.
So imaginative, so exciting, so much fun! When Hedy and Spencer go to stay with their retired magician grandfather in his spooky old house, strange and mysterious things soon start to reveal themselves…
Family secrets, deadly rivalries, magic tricks gone wrong (or so it may seem), talking taxidermy – what's not to love?! With some real nail-biting, unpredictable moments and a good measure of silly fun, this book is a real adventure. It also totally sticks the landing, which is a worry for me when I'm really into a seemingly well-crafted story. I've been burned by Lost and Game of Thrones before... And there's a sequel, The Magician's Map, out now – woo!
Earth Heroes
by Lily Dyu, illus. by Amy Blackwell
(Nosy Crow, 2018)
So this is definitely a great book for kids, no question. Gorgeous and impeccably written, balancing hope and realism, emotion and facts, in page-turning style. But this is definitely one that us adults need to be reading, too. The stories are genuinely inspirational, a bum-kicking reminder that there's no excuse not to try in your own way and that, with patience and persistence, the results can be extraordinary.
I often feel paralysed by the complexity of how to tackle environmental problems on a big enough scale to matter. Cleaning up a bit of waste here, saving one habitat here, it feels like playing planetary destruction whack-a-mole. But just like patchwork pieces eventually make up a quilt, this book shows how smaller steps and successes can end up creating really meaningful change.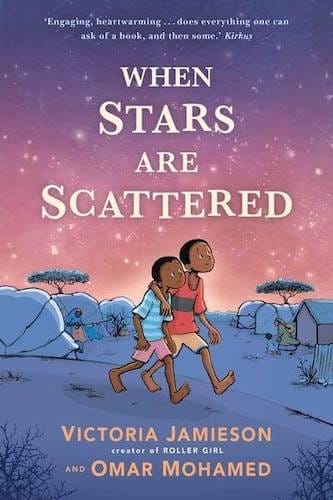 When Stars Are Scattered
by Victoria Jamieson and Omar Mohamed
(Faber & Faber, 2019)
I couldn't agree more with the reviewer who said that this graphic novel, based on co-author Omar Mohamed's childhood years spent with his brother in Dadaab refugee camp, 'does everything one can ask of a book, and then some.' It's hopeful and heart-wrenching, a glimpse of what life really looks like when you're stuck waiting for help and change that keeps not coming.
Please don't think this will be too harsh and depressing for kids, because it's not. It's funny, warm and expertly crafted, the extremity of the brothers' frustrations and hardships part of a whole life also filled with loving people and light, familiar moments. Although conflict, violence and death are unavoidably behind why the boys, and the other people in the camp, can't return to their homes, there is no explicit violence shown on the page.
This book also has a bittersweet but ultimately happy ending that would seem almost unbelievable if it wasn't based on real-life events, with photos included to show what really happened.
Before we even get to the poems, I love this book's cover so much (the gold!) that I sometimes pick it up to look at it and turn it back and forth in the light. Luckily, it lives up to its cover's promise by being just the most interesting, varied, beautiful and often brilliantly unexpected collection of poems about Earth.
It approaches our natural world from all sorts of angles, through ancient poems to ones from contemporary stars such as Raymond Antrobus (a personal favourite of mine). It's a true treasure, and a great reminder that curation has an art all of its own.
A Kind of Spark


by Elle McNicoll
(Knights Of, 2020)
This charming, perfectly paced novel tells the story of Addie's campaign for a memorial to the women killed in her Scottish village's witch trials. Addie bravely challenges people's narrow views of her, her autism and the way things 'should' be. This is the first novel I've (knowingly) read with neurodivergent characters written by a neurodivergent author, and I can't tell you how obvious the difference is. As well as this being a standalone amazing read, I really feel like it helped me understand some important things about autism that I'd been completely ignorant of before.
Since I first read this book, it's absolutely blown up and has had some of the recognition it deserves. It was named Waterstones Book of the Month and Blackwell's Book of the Year, for a start. And it won 'Best Story Book' in the Blue Peter Book Awards 2021 (I was so happy to see my book Who Do You Think You Are? longlisted alongside it, and in the 'Best Book with Facts' category so we weren't even in competition!) I interviewed Elle for the first issue of my newsletter and it was such a delight to hear her wise words. You can read the interview here.
I've just ordered my copy of Elle's new book, Show Us Who You Are, which sounds amazing too. It's futuristic and adventurous, with a moving friendship between two neurodivergent characters.
Dosh
by Rashmi Sirdeshpande, illus. by Adam Hayes
(Wren & Rook, 2020)
YES. This book (published as Cash in the USA) is just what kids – and lots of adults, myself included! – need to navigate the tricksy ins, outs, ups and downs of money.
It's chatty and contemporary, ethical and non-judgmental. And it covers everything from big ideas about what money is – and how we can use it for good – to practical guides about compound interest, the stock market and starting a business.
Diver's Daughter


by Patrice Lawrence
(Scholastic, 2019)
As much as some people don't want to acknowledge it, it is simple historical fact that Black British people existed long before World Wars and Windrush. Set in Tudor times, this perfectly paced adventure story follows Eve and her mum, who was stolen from Mozambique as a child, in a thrilling hunt for sunken treasure.
Eve is such a lovely character, and I felt totally immersed alongside her in the everyday reality of Tudor Britain – from its Southwark slums to its long, rough horse-drawn journeys. There are elements of real history, including a character based on a famous Black free-diver, and it all comes together in a brilliantly twisty, gripping story. Part of Scholastic's Voices series.
I thought I knew where I was with this book – a neat, imaginative story with a gaming twist and a rich Kuwaiti setting. But while so many stories start strong and fizzle out, this one only reveals the full scope of its heartbreaking, slow-burning beauty at the close.
It takes a special kind of bravery to stop fighting and accept things as they are – whether that's an outgrown friendship or something even more life-changing, such as a parent's serious illness or a bereavement. This book shows how the reward can be truly appreciating what you've had and moving forward with a better idea of how to live happily.

I'm usually okay with being comically, almost unbelievably bad at drawing. But there's something about Rachel Ignotofsky's books that makes me wild with envy that I can't do what she does. Each spread is like a perfect tapestry, every inch of its woven world busy with facts, illustrations, typography and infographics
This works particularly well for ecosystems, for obvious reasons. There's so much information here, in a good way. Kids can really dig in and lose themselves in the fascinating scientific specifics of how our world works. The book also looks at how different ecosystems benefit humans, and the biggest threats they face because of our actions.
Snow Foal
by Susanna Bailey 
(Egmont, 2019)
When Addie has to leave her mum to stay with a foster family on a farm in the middle of nowhere, she's understandably angry that she can't go back home. She doesn't trust anyone here, and she feels totally alone despite being surrounded by people. But then she helps rescue a wild foal, alone in the snowy moorland, and things get more complicated…
This is such a beautiful book, with settings and characters that I can still picture perfectly long after reading it. It's full of heart and healing, without ever being too neat or sentimental. It also deals really sensitively and non-judgmentally with Addie's mum's mental health struggles.
Rescue


by David Long, illus. by Kerry Hyndman
(Faber & Faber, 2019)
You'd expect this big beauty of a book, about real-life rescues around the world, to be full of excitement and danger. And it is! But it's much cleverer than that, too.
Kids get the full stories behind the headlines, and discover that it's things like teamwork, patience and professional expertise – all often underrated in a world that loves flashy, go-go-go dramatics – that actually save lives.
A note for younger or more sensitive readers (I'm the latter!): the stories do sometimes include injuries, disasters and deaths. However, this is handled very sensitively and respectfully. The overall tone is always hopeful, celebrating what humans can achieve when we care for each other and work together.
Mythical mayhem and relatable real-life problems collide in this hilarious adventure novel, the first in a popular four-book series. Elliot is trying to hold life together in the face of his mum's worsening illness and their crisis-level money issues. Then a bunch of badly behaved ancient Greek gods crash-land in his back garden. Suddenly he has to help them save the world on top of everything else! So human, so funny and such a page-turner.
Big Ideas for Young Thinkers
by Jamia Wilson, illus. by Andrea Pippins
(Wide Eyed, 2020)
I know this book pretty inside-out because I copy-edited it (so any typos are my fault – eek!) I love how the author totally gets the huge scope of kids' ideas and ambitions. The book takes on all sorts of big questions, from 'Why do I exist?' and 'Is race real?' to 'What happens when we disagree?'
The book's tone is perfect – clear, friendly and age-appropriate without ever talking down. And although it introduces loads of brave forward-thinkers from history, it doesn't feel too worthy or educational. The artwork and design are fabulous, too – it's a real looker.
Pie in the Sky
by Remy Lai
(Walker Books, 2019)
Oh, my heart! I absolutely fell in love with this wonderful illustrated novel about a boy called Jingwen. When Jingwen moves with his mum and annoying little brother to Australia, he feels like he's landed on Mars. He struggles to learn English and this makes it even harder for him to work out whether people are being kind or cruel.
Jingwen starts a secret cake-making project to feel closer to his late dad, and to fulfill the dreams they'd had for their own incredible bakery. But things don't go exactly according to plan… The whole book is funny and perfectly paced and you just feel so much for Jingwen (and, as an adult, his mum trying to hold everything together). I love a graphic novel and this one uses the form perfectly – from Jingwen's hilarious annoyed expressions to his vivid, bittersweet memories of a happy past.
Modern Art Explorer
by Alice Harman, illus. by Serge Bloch
(Thames & Hudson, 2020)
Hey, that's me! I hope you forgive the cheekiness but I'm sneaking one of my own middle grade books in here. It's all about the amazing ideas, techniques and stories behind 30 of the world's greatest modern artworks.
It features world-famous artists such as Frida Kahlo, Henri Matisse and Andy Warhol and introduces children to all sorts of exciting and beautiful artworks – from giant colourful cloths woven from bottle caps (El Anatsui) to topsy-turvy mirror sculptures (Anish Kapoor). My mission is to make art as fun and accessible as possible for kids, so the book is chatty and full of fun details – and wonderful little jokey sketches from the masterful Serge Bloch.
The big ideas are all there, and children will learn a lot about modern art, but I also encourage them to be more confident in their own thoughts and takes on art. Which, in my experience, are absolutely amazing! I've had some really lovely reviews for this book from parents, children, authors, art critics – and even The New York Times and The Wall Street Journal. So if you know a wonderfully artistic or creatively minded child, they might well get on with it too. It's also a great book to explore together with a child, as well as for them to read alone.
I hope you've found some middle grade books on this list that you're excited to share with the kids in your life. And, if you haven't already, make sure to subscribe to What Book Now?, my monthly newsletter. It's packed with interesting, inclusive children's books and other great stuff!
This page includes Bookshop.org and Blackwell's affiliate links so I may get a percentage of the sale, at no extra cost to you. I wasn't sure about Bookshop at first, but I've seen first-hand how it's getting people in the habit of supporting independent bookshops rather than buying from Amazon – so I've come round to it! Please visit my 'Indie Bookshop of the Month' on my Bookshop page, so they receive the affiliate payment.