Award-winning author and illustrator Yuval Zommer creates beautiful fiction and fact-filled books for children about our natural world, from its skies and seas to its plants and creatures. His latest book, A Thing Called Snow, is full of friendship and festive fun. Cosy up with a cup of tea for this lovely chat with Yuval – and discover his favourite drawing tips to create your own masterpieces!
1. What's your favourite thing about winter?
Snow! It doesn't always arrive on time, or indeed everywhere, but when it does it's wondrous. It has the ability to stop everyone, including grown-ups in their tracks, to make us take a moment and look at at the world again with awe. I love nature but snow also makes our cities look magical!
One of my fondest memories of snow is visiting New York in winter when all the Christmas and Hanukkah lights were on. As soon as it started to snow, children everywhere were wishing me 'Happy Snow!' And who can resist building a snowman?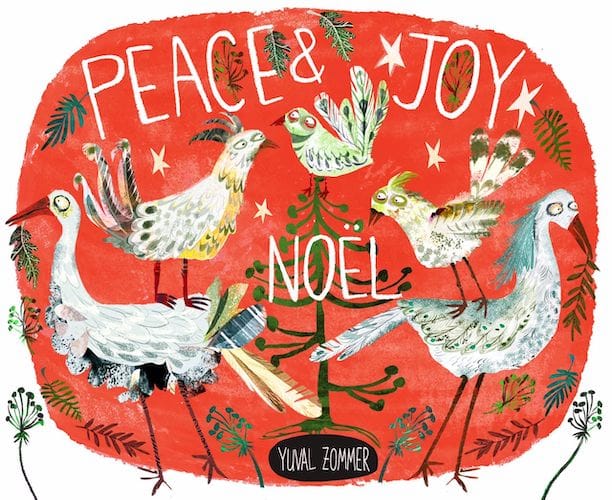 2. How do you hope your books make children feel?
I'd like to think my books inspire kids to explore and cherish the natural world, or even go on to write and illustrate their own books! Whenever I visit schools or book festivals, I always tell kids they too can become scientists, environmentalists, storytellers or whatever they aspire to be. I do not believe there is such a thing as a 'reluctant reader'. It's a matter of placing the right book in front of a child and they will engage.

3. Can you share your favourite drawing tips?
If you're drawing nature, remember that Mother Nature is the greatest artist! It's all about the detail: the best colours, patterns and shapes are always found in nature. So look very closely at even the smallest bug and you'll notice how amazing nature can be.
If you're drawing animals, remember that it's all about the movement too. If you can get to understand how an animal moves, you'll be able to understand how it thinks and feels. Then you'll have a realistic drawing. I used to practice by drawing my dogs and other pets!
4. What inspired you to write your latest book, A Thing Called Snow?
I am just a big kid who loves Christmas/Hanukkah time! I wanted to create a festive tale that's set firmly in the natural world, and to show the joy of experiencing snow for the first time from the animals' point of view. A Thing Called Snow is about a young Arctic fox and a snow hare who are born in spring, grow up in summer and by autumn are firm friends who are ready to go on a winter's journey to discover what snow is like.
I like the idea of 'Christmas books' that aren't about man-made ideas like Santa or chimneys or Rudolph, but are rooted in the change of seasons and are relevant to all cultures.
5. Which new children's book have you loved most this year?
Quite a few books published this year deserve more attention, and Books Make Good Pets (Orchard Books) is a particular favourite of mine. It's a delightfully original picture book poem, the perfect gift for anyone who delights in reading. Momoko Abe's illustrations perfectly complement John Agard's evocative, lyrical writing style.
Thanks so much for talking to me, Yuval! And Books Make Great Pets is now on my 2021 reading list. I adored John Agard's poetry as a kid, I'm sure this book is just as wonderful as I remember. 🙂
To find out more about Yuval Zommer and his fabulous fiction and non-fiction books for children, follow him on Instagram or Twitter.
Want to know more about the wonderful world of children's books? Check out these interviews with author Elle McNicoll and designer Avni Patel. And, if you haven't already, make sure to subscribe to What Book Now?, my monthly newsletter. It's packed with interesting, inclusive children's books and other great stuff!
This page includes Bookshop.org affiliate links so I may get a percentage of the sale, at no extra cost to you. I wasn't sure about Bookshop at first, but I've seen first-hand how it's getting people in the habit of supporting independent bookshops rather than buying from Amazon – so I've come round to it! Please visit my 'Indie Bookshop of the Month' on my Bookshop page, so they receive the affiliate payment.